What size of inverter do I need?
admin
2017-09-19T12:28:30-07:00
An inverter needs to supply two needs – Peak or surge power, and the typical or usual power.
Surge is the maximum power that the inverter can supply, usually for only a short time (usually no longer than a second unless specified in the inverter's specifications). Some appliances, particularly those with electric motors, need a much higher start up surge than they do when running. Pumps, compressors, air conditioners are the most common example-another common one is freezers and refrigerators (compressors). You want to select an inverter with a continuous rating that will handle the surge rating of your appliance so you don't prematurely burn out the inverter. Don't rely on the inverters surge to start your equipment because inverters don't like to operate in their surge mode unless the manufacturer claims to have a longer surge time than normal.
Typical is what the inverter has to supply on a steady basis. This is the continuous rating. This is usually much lower than the surge. For example, this would be what a refrigerator pulls after the first few seconds it takes for the motor to start up, or what it takes to run the microwave – or what all loads combined will total up to. (see our note about appliance power and/or name tag ratings at the end of this section).
You can use the following formula to determine the size:
Volts * Amps = watts
or
Watts / Volts = amps
1250 Watt example:
1250 / 120 Vac = 10.41 amps ac (typical number found on equipment)
or
1250 / 12 Vdc = 104.1 amps dc (battery drain per hour)
Here is an example:
First, you need to determine what items you need to power during a power failure and for how long. Here is a brief example (watt requirements vary):
Lights – About 200 watts
Refrigerator – About 1000 watts
Radio – About 50 watts
Heater – About 1000 watts
Total wattage needed is 2250 watts. The fridge and heater have a start up power requirement so let's allow 2x the continuous wattage for start up requirements. 2250 * 2 = 4500 watts
To get a total watt estimate for all of the items you plan on powering with your inverter, click here
Second, select an inverter. For this example, you will need a power inverter capable of handling 4500 watts. The continuous power requirement is actually 2250 but when sizing an inverter you have to plan for the start up so the inverter can handle it.
Third, you need to decide how long you want to run 2250 watts. Let's say you would like to power these items for an 8 hour period. Well this can be tricky because heaters and fridges run intermittently. Let's assume all of the appliances will run 40% of the 8 hr period which is 3.2 hours of actual run time. We need to convert the ac watts to dc amp hours because that's how batteries are rated.
To convert ac watts to dc amps per hour you divide the watts by the DC voltage (usually 12v or 24volts). Let's use 12volts since it is the most common.
2250 watts / 12 vdc = 187.50 dc amps per hour
187.50 is now your power requirement per hour
You have now determined that 187.50 is your power requirement per hour and now you need to multiply that by total hours of run time which is 3.2 in our example.
187.50 dc amps per hour 3.2 hours = 600 dc amps
Because you are using an inverter, you want to calculate the loss for converting the power which is usually around 5%.
(600 dc amps * 5%)+ 600 dc amps = 630 dc amps per hour (this is how much power you need in an 8 hour period running your appliances 40% of the time)
Fourth, now that you know your total power requirement is 630 dc amps we can select a battery source. Most typical deep cycle batteries are 6 volts or 12 volts. I will give you two examples using each voltage.
12 volt battery example: If you select a 12 volt battery rated at 100 dc amps you will need 6 or 7 batteries in parallel (I will explain parallel vs. series later).
630 dc amps / 100 dc amp battery = 6.3 batteries
6 volt battery example: If you select a 6 volt battery rated at 200 dc amps you will need 6 batteries in series and parallel. 3.15 * 2 = 6.3 batteries No, I didn't make a mistake. When you use 6 volt batteries, you have to connect them in series to reach 12 volts. Then you connect each series pair of 6 volts in parallel to create your 12 volt battery bank.
What is series and parallel you ask?
When you connect batteries is parallel you are increasing amps. When you connect batteries in series you increase voltage. In the battery world, it is better to limit your parallel strings. It is better for your power system. In this example, I would recommend using 6 volt batteries because of the number of batteries this example requires.
How do we charge these batteries? You will need a charger to charge the batteries when you have access to city power. Most deep cycle batteries need a "smart" charger so the charger doesn't damage the batteries. In this example, you will need at least a 40 amp charger if not bigger. The bigger the charger, the faster the charge. Make sure your charger is for 12 volt batteries because the system we just identified is a 12 volt system.
You will also need cables. For this example, a 4 AWT (0000) cable is required to handle 4500 watts of start up power. That is huge cable. You may also want to consider an inline fuse. A 500 amp for this example is perfect. To figure out the size of fuse you divide your ac watts (start up) by dc voltage.
4500 watts / 12 vdc = 375 amps
You would need a 375 amp fuse or bigger. I recommend a 500 amp just incase you were to max out the 5000 watt inverter. This is just a brief example. There are many different ways to set up your system. You can use solar panels, wind etc.
How do I connect the charge controller to the battery?
Laura
2018-05-02T14:05:44-07:00
You will need a negative and positive cable to connect the charge controller to the battery. The cable size is determined by the size of the charge controller. We recommend using high quality, certified cable with high quality lugs and shrink tubing. Our cables are UL listed and extra flexible and made for inverter applications. Here is a guide for sizing your cable. Note this is recommended for the AIMS Power cable. The AIMS cables have high quality copper and braided differently, which have higher current ratings. NOT all cable is made the same.
80 & 100 amp charge controllers: 6 AWG
60 amp charge controller: 8 AWG
40 amp charge controller: 10 AWG
30 amp charge controller: 12 AWG
10 amp charge controller: 16 AWG
AIMS Power does not offer 12 or 16 AWG cable. You can always use 10 AWG as a substitute. It's ok to go with bigger wire.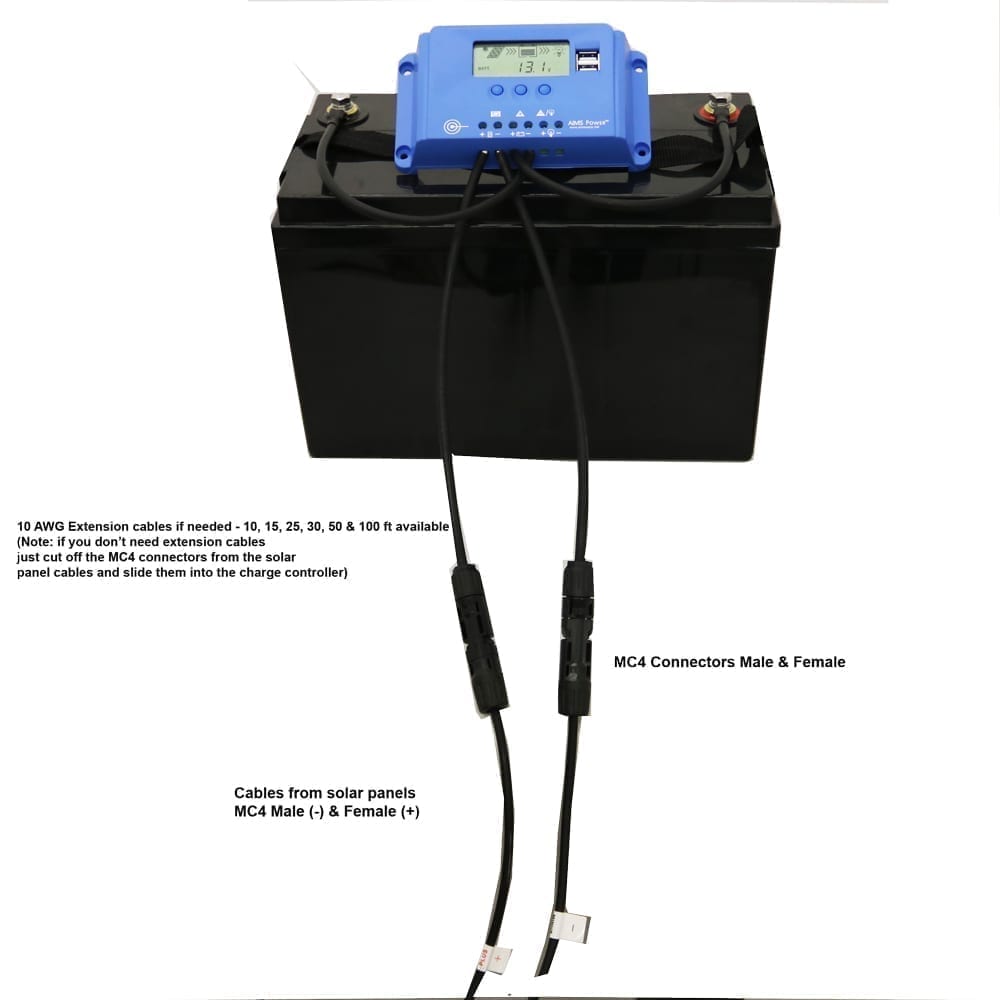 What size of cable should I use with my inverter and battery?
Laura
2018-10-16T13:22:27-07:00
It is very important to be sure you are using the appropriate cable size for your inverter/battery. Failing to do so could lead to your inverter not supporting full loads and overheating, which is a potential fire hazard. Use this as a guide for choosing the proper cable size, and be sure to contact a professional electrician or our tech team with any additional questions you may have.
1.What size inverter do you have?
Example:  AIMS Power 5000W 24Vdc Power Inverter, model # PWRINV500024W
2. What is the DC voltage of your battery bank?
Example below:  8 x 12Vdc batteries wired in series and parallel to make 24Vdc:
3. Now divide the inverter's wattage by your battery voltage; this will give you the maximum current for your cables.
(5000 W)/(24 Vdc)=208.33 A
**Here we are just manipulating Ohm's Law which tells us that:
Wattage = Voltage * Amperage
4. So, in our example 208.33 amps is the maximum current that the cable needs to support in order to properly provide the current to the inverter. Use the below chart as a guide to determine which size cable will be best for your application. In our example we can see that 1/0 AWG cable would be appropriate (#1 AWG has a maximum rating of 211A, which is fairly close to our maximum amperage, so it would be a good idea to go up in size to the next gauge especially for lengths over 10 feet).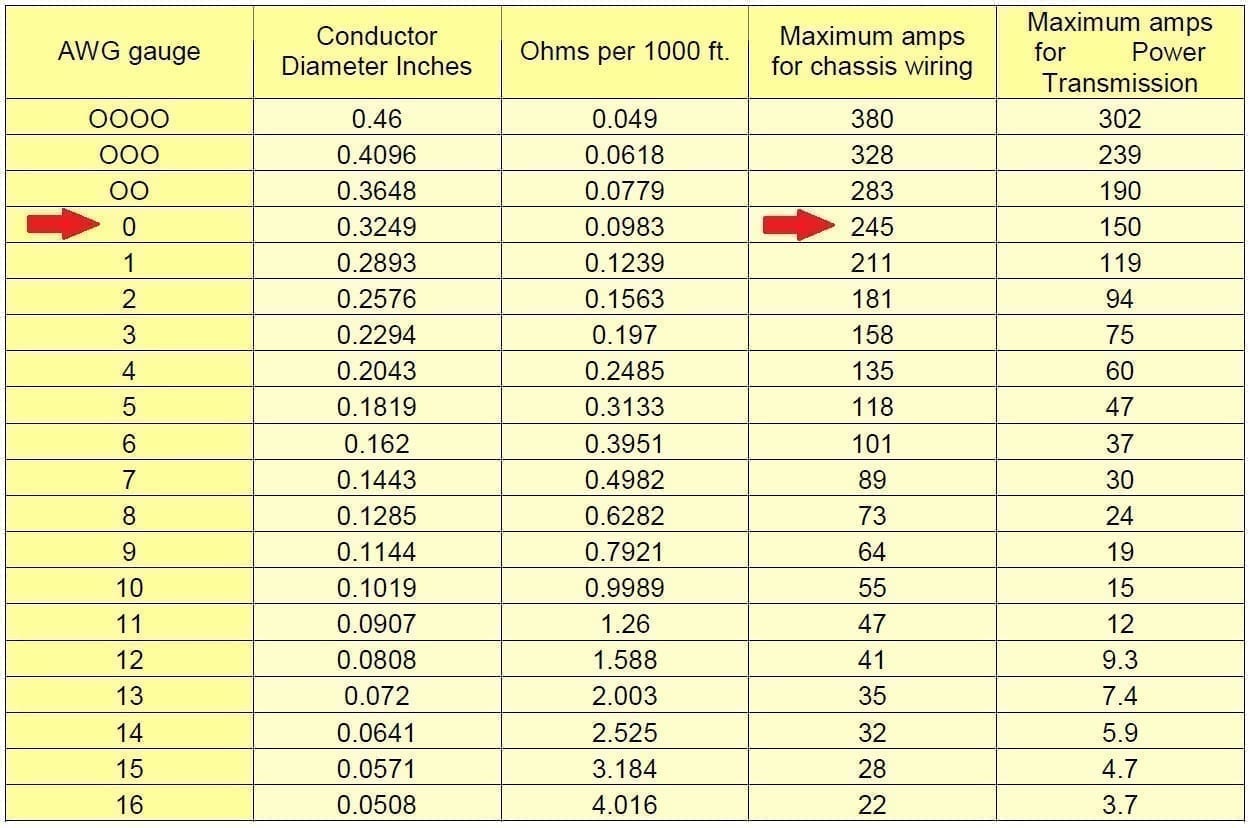 *** PLEASE NOTE: For distances over 10 feet, voltage drop over the cables will occur due to resistance through the wiring. If you will need to run cables longer than 10 feet, it is recommended that you increase the cable size in order to compensate for voltage loss. If you are unsure about your application feel free to give us a call and we will be able to assist you in finding the right cable.
Why spend the money on a lithium battery?
Laura
2018-09-05T13:45:52-07:00
There are several differences between lithium batteries and AGM. See below for a brief explanation:
Benefits of lithium batteries:
Lithium batteries offer up to 8x more charge/discharge cycles than AGM & GEL batteries
Lithium batteries are 1/2 the weight of AGM & GEL batteries
You will need 3 AGM / GEL batteries to every 1 lithium battery if you follow the DoD % recommendation for AGM & GEL technologies
Utilize the full rated amp capacity without harm to the battery
Constant output voltage
Extremely high number of charge/discharge cycles
> 10 Year lifespan with proper maintenance
No need to worry about depth of discharge
Wide operating temperature range
Unsurpassed high temperature performance
Green energy without metal contaminant
Low maintenance
High amp capacity
Stable output voltage
Little self-discharge
BMS safety protection
Convenient removable carry handle
Lightweight
Sophisticated Battery Management System (BMS)
| | | | |
| --- | --- | --- | --- |
| 100 Ah Battery Comparison | AGM | GEL | Lithium |
| Average Price | $210 | $220 | $849 |
| # of cycles @ 30% depth of discharge (DoD) | 1200 | 1200 | 4000 |
| # of cycles @ 50% depth of discharge (DoD) | 500 | 500 | 4000 |
| Lifespan (depends on battery maintenance) | 2-3 years | 2-3 years | 9-10 years |
| Size | 13x9x7″ | 13x7x9″ | 13x7x9″ |
| Weight | 74 lb | 71 lb | 31 lb |
| | |
| --- | --- |
| Performance Example: | |
| Let's say you are powering a refrigerator that requires 10 amps and you use a DoD of 30% with a 100Ah rated AGM/GEL | 30 AH available capacity / 10 amp draw = 3 hours of usage |
| Let's say you are powering a refrigerator that requires 10 amps and you use a DoD of 50% with a 100Ah rated AGM/GEL | 50 AH available capacity / 10 amp draw = 5 hours of usage |
| Using a lithium battery with no DoD recommendation | 100 AH available capacity / 10 amp draw = 10 hours of usage |
**Depth of Discharge (DoD) is used to describe the % of the battery's energy that has been discharged. For example, if the battery is charged 100%, its DoD is 0%. If the battery is 100% discharged, the DoD is 100%.  If the battery's DoD is 40%, it still has 60% of its energy. It is another way of stating the battery's state of charge. GEL/AGM battery  manufactures recommend a % of DoD to prolong overall battery life.
How many batteries do I need for my inverter?
Laura
2017-09-20T15:58:23-07:00
To size a battery bank we take the hours needed continuously x watts = total watts/DC volts=amps needed.
Example: 3 hours of run time needed * 1500 watts = 4500 watts total / 12 volts DC = 375 amps. You will need a total of 375 amps of stored power in the batteries. We don't recommend fully depleting your batteries so keep this in mind when you are calculating the number of batteries needed.
Here is another example: Let's say you purchase a 2000 watt inverter 12 Volt. If you max out the inverter at 2000 watts, you are pulling 2000 watts /12 volts = 166.6 DC amps per hour. If you use  a 200 amp 12 volt battery you would divide 200 amp battery / 166.6 amps = 1.2 hours of run time. This is if you plan on fully depleting the battery, which we DON'T recommend. We recommend 50% depth of discharge. Since we recommend 50% depth of discharge, you would divide 1.2 hours /50%  = .60 hours. If you use 30% depth of discharge you divide 1.2 hours/30%=.36 hours.
How do I connect my batteries for a 24 Volt system?
Laura
2018-10-15T03:36:23-07:00
How do I connect multiple 6 Volt batteries in series and parallel for a 12 Volt system?
Laura
2018-10-15T03:34:00-07:00
How do I connect my 6 Volt batteries for a 12 Volt system in series?
Laura
2018-10-15T03:33:09-07:00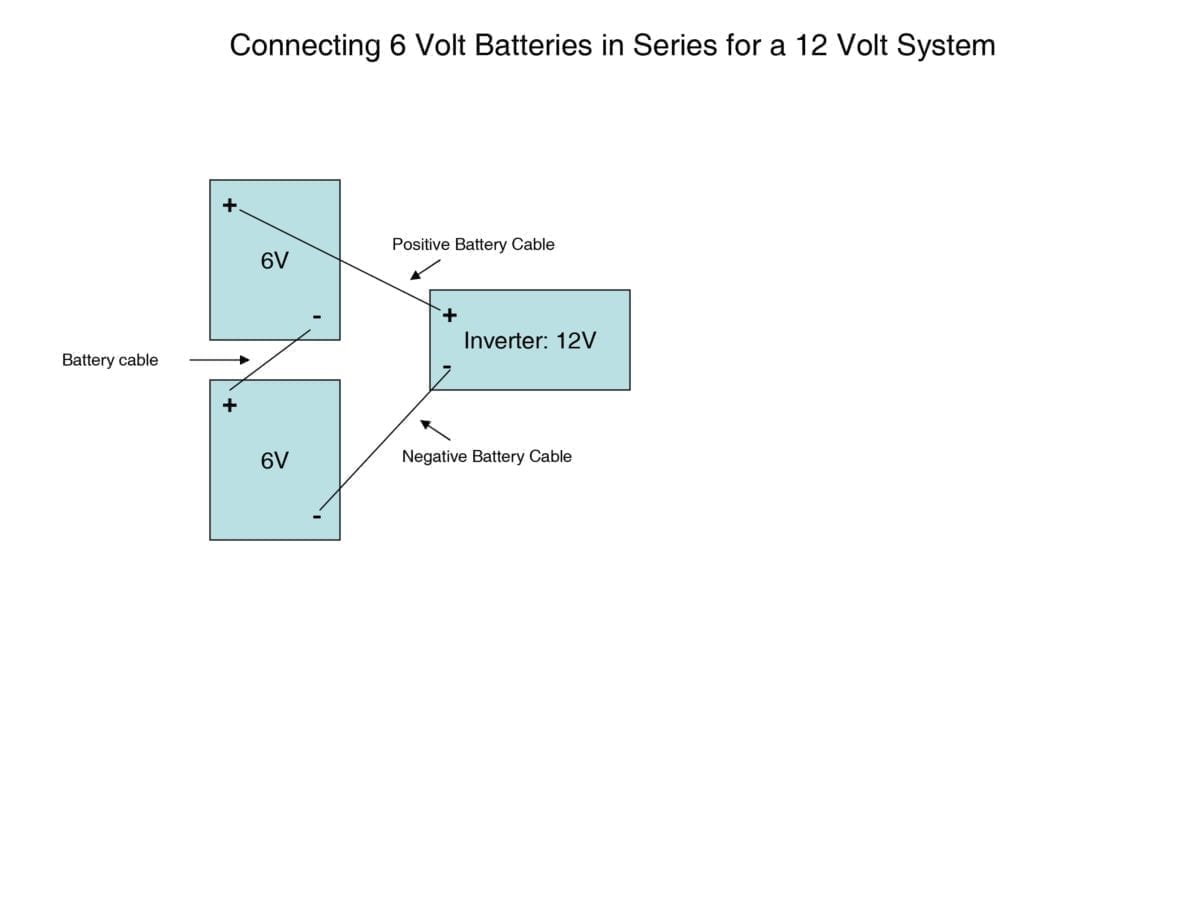 How do I connect my 12 Volt batteries in parallel?
Laura
2018-10-15T03:36:05-07:00